Track Closed
This summer the track will be re-surfaced. The track re-surfacing project is expected to begin June 1st. As a result, the track complex will be closed for the month of June. Re-surfacing the track will ensure that the facility will be able to be used for years to come by students, parents, and community members.
---
Work Permits
All work permits are issued at Miami East High School. Applications are available in the main office and on the District's web site. If you need a work permit completed over the summer contact Dr. Rappold at 335-7505.
---
Summer Shutdown Week will be July 1-8. Enjoy your week off! Miami East has instituted a mandatory shutdown period for all Miami East students in grades 7 - 12 in Athletics, Band, and all extra-curricular activities for the of week July 1-8, 2018. All school facilities will be closed, and there will be no practices or activities this week.
---
Thank You Volunteers!
Many thanks to all of the parents who volunteered this year across the District! In addition, the District continues to be very blessed having so many community members continuing to offer assistance all year long. We could not have pulled it off without your support.
---
Thanks to the Miami County Foundation!
Congratulations to the following staff members who have been selected to receive a Spring 2018 Miami County Foundation Grant!
Miami East Elementary $500 for PBIS Intervention and Support
Miami East High School $1,500 for Muse Machine

Miami East High School $7,200 for Band Rain Coats
---
Miami East Music Boosters…Looking to fill a vacancy
The Miami East Music Boosters currently has the position of Vice President open. If you would be interested in being more involved in the music programs, please let us know. We can be reached on Facebook and Twitter, or you can contact a board member
President: Chris Bashore
Secretary: Amy Mahan
Treasurer: Nicole Rush
Publicity Officer: Kim Redick
---
UVMC Announces Summer Sports and Human Performance Programs
UVMC is proud to once again announce that the Summer Sports Enhancement programs; Edge Camp for high school athletes, Edge Camp Jr. for junior high age athletes, and Knee Fit programs are now open for registration. For more information, please visit www.UVMC.com/Sportsmedicine to register online or call 1-866-608-FIND.
---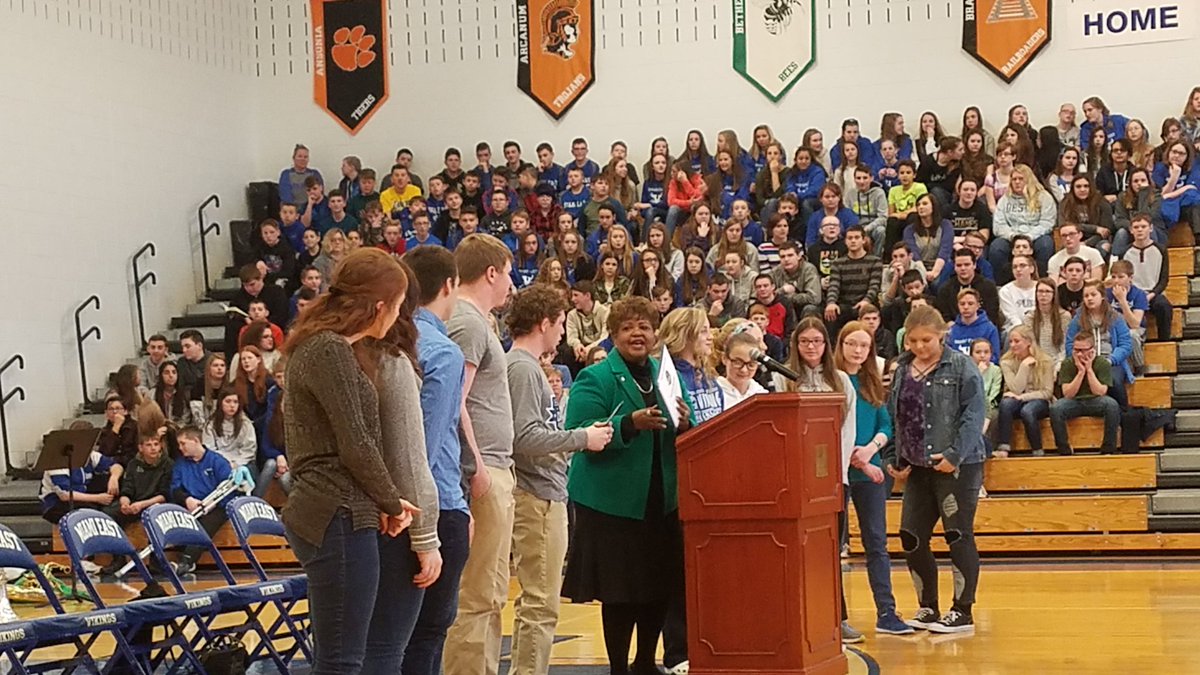 District-wide Assembly to Honor Miami East for Momentum Award
Charlotte McGuire, State Board of Education Representative for District 3, will present Miami East with a Momentum Award on Friday, March 23rd in the HS gym. Students from the K-8 building will join high school students in the special assembly. The Momentum Award recognizes exceptional performance by schools for receiving A's on each Value-Added measure on the state report card. Congratulations to all Miami East students, parents, and staff!
---
If you are not receiving our E-Newsletter, you are missing out on up-to-date information in the District. Sign-up for the bi-weekly newsletter by e-mailing Dr. Rappold your email address. trappold@miamieast.k12.oh.us
---
Follow Miami East on Twitter. To stay updated on upcoming events and great things happening at our school, follow us @
@MiamiEastJH
@MiamiEastEL
@MiamiEastHS
---
Progress Book. For the 2018-2019 school year the Miami East School District will once again utilize Progress Book to updates students and parents regarding grades. Progress Book is a district-wide, web-based solution for K-12 schools. Progress Book enables parents and students to see student progress and see grades online. It can be accessed 24/7 from any internet web-browser. Please utilize Progress Book to stay updated on your son/daughter's grades.
---