Athletic Booster Chicken Wing Night Fundraiser
The Athletic Boosters annual Wingfest will be held on Saturday, November 17 at the Troy Eagles Campground. The meal will be served 6:00-7:30pm and games will be played 7:30-9:30. Casino games will be played and there will be auction items and tip boards throughout the evening. The chicken wing dinner is $10 per person. Children are welcome for dinner, but players must be 18 years old or older to participate in the Monte Carlo games.
---
This year the high school Spring production this year will be The Great Gatsby. Auditions will be occurring soon. If you are interested see Mrs. Hurst.
---
On Monday, November 19th, MEHS students and staff will hear from motivational speaker Guan (pronounced Juan) Paul Gonzales. His message is about going "All In" and how to give all one's talents and energy to their personal mission. Today we highlight a MEHS staff member that is "All In." This staff member is being recognized for her unending desire to give students a better education and make learning fun. Her positive attitude has helped her be a better teacher, better friend, and better person. She has beautified our campus and made MEHS a happier place. Most importantly -- she has used her "All In" attitude to beat cancer. We are proud of our "All In" teacher -- Mrs. Bailey.
---
This week the FFA is sponsoring a canned food drive for the Fletcher Food Pantry. All donations can be made in the Ag Room. For every 5 cans donated donators will be entered into a drawing for a $20 mystery gift card. Seniors can earn up to 5 hours of community service for every 10 cans donated (50 cans = 5 hours).
---
Attention students interested in apprenticeships: The Sheet Metal Workers Union is sponsoring an open house! Please see Mr. Rutledge for more information.
---
Community Service Opportunity: Help is needed with the annual Senior Citizens Christmas Dinner on Monday, December 3rd. Volunteers are need right after school and also beginning at 5:00 p.m. that evening. Sign up with Mrs. Hall in the office if you are available to help.
---
Attention CC+ students: Stacey from Edison will be here this Thursday, November 15th for spring scheduling. Sign up for a time to meet with her in the counseling area. Questions? See Mr. Rutledge.
---
Attention Senior: There will be an early College Signing Night on Wednesday, November 15th in the High School Cafeteria at 6:30 pm. This event is for students who know where they are attending college next year. There will be another College Signing Night in the spring for those who are still undecided.
---
Attention Juniors and Seniors: The last 2 college visits are scheduled: Urbana will be here TOMORROW @ 11:00 am and Bluffton will be here Thursday, November 15th @ 1:00pm. Sign up in the counseling office. See Mr. Rutledge with questions.
Thanksgiving Holiday
There will be NO SCHOOL at Miami East on Wednesday, Thursday and Friday, November 21-23 in honor of the Thanksgiving Holiday. School will resume on Monday, November 26th.
---
Miami East Junior High and Elementary Scholastic Book Fair
November 26 - November 30
---
BEWARE OF SCHOLARSHIP SCAMS. A good rule of thumb is "If it sounds too good to be true, it probably is!" All sources for scholarship information are available at no cost. A Service that charges a fee is only doing the same thing and finding out the same information that you can – for free.

---
How do our parents sign up to receive One Call Now text messages?
By texting the word ALERT to 22300
---
Substitute Custodian
Have you ever thought about being a substitute custodian? We are currently looking for substitute custodians that can be available on an as needed basis. If interested in becoming a custodian please send an email to Dr. Rappold @trappold@miamieast.k12.oh.us
---
ONE CALL NOW
The Miami East School District will periodically utilize the One Call Now system to relay information to parents. The alerts will be sent to your home phone number.
If you would like to switch your home phone number to a cell number instead…simply contact Dr. Rappold with that change at trappold@miamieast.k12.oh.us
Even if you updated your phone number last year, please contact Dr. Rappold with any phone number you want listed other than your home number this year. This update must be completed every year. Simply contact Dr. Rappold with that change and the name of your son/daughter at trappold@miamieast.k12.oh.us
---
Athletic Passes. Viking fans may purchase a limited season pass. These punch passes are only good for 10 admissions, but those can be any home sporting event. Punch passes may be purchased for students or adults, high school or junior high events. The price for an adult pass for high school games is $54, while a student pass for high school games is $20. The cost of an adult pass for junior high games will be $36, while a student pass for junior high games will be $20.

---
Follow Miami East on Twitter. To stay updated on upcoming events and great things happening at our school, follow us @
@MiamiEastJH
@MiamiEastEL
@MiamiEastHS
---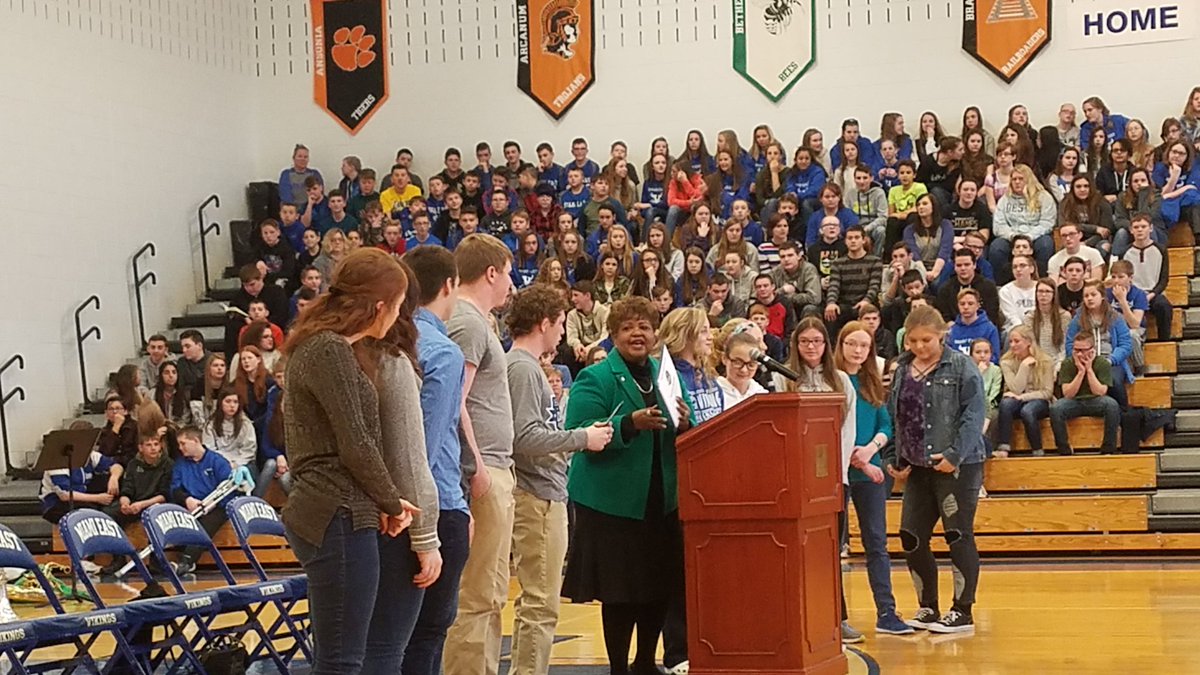 District-wide Assembly to Honor Miami East for Momentum Award
Charlotte McGuire, State Board of Education Representative for District 3, will present Miami East with a Momentum Award on Friday, March 23rd in the HS gym. Students from the K-8 building will join high school students in the special assembly. The Momentum Award recognizes exceptional performance by schools for receiving A's on each Value-Added measure on the state report card. Congratulations to all Miami East students, parents, and staff!
---
If you are not receiving our E-Newsletter, you are missing out on up-to-date information in the District. Sign-up for the bi-weekly newsletter by e-mailing Dr. Rappold your email address. trappold@miamieast.k12.oh.us
---
Follow Miami East on Twitter. To stay updated on upcoming events and great things happening at our school, follow us @
@MiamiEastJH
@MiamiEastEL
@MiamiEastHS
---
Progress Book. For the 2018-2019 school year the Miami East School District will once again utilize Progress Book to updates students and parents regarding grades. Progress Book is a district-wide, web-based solution for K-12 schools. Progress Book enables parents and students to see student progress and see grades online. It can be accessed 24/7 from any internet web-browser. Please utilize Progress Book to stay updated on your son/daughter's grades.
---